About
COMPANY BACKGROUND

wowintro was established in October 2014 and started off as a 30-second video impression platform targeting job seekers to market themselves to their potential employers.
After receiving much feedback from the real voices of Malaysian HR specialists across hundreds of companies, we realized that a similar problem was frequently echoed - they desired a better way to manage their recruitment process. Their struggle is not first and foremost talent acquisition given the plethora of career sites available in the Malaysian hiring markets; rather, their struggles are that many are still tied down to the traditional and manual approaches to the management of the talent acquisition process.
In discovering the great demand for such a service, wowintro has transitioned itself into an Applicant Tracking System (ATS) that seeks to digitalize the talent acquisition scene of companies thereby alleviating the annoyances faced by HR managers in Malaysia.
WHAT IS WOWINTRO?
PRE-INTERVIEW VIDEO SCREENING TOOL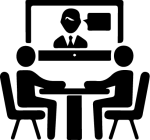 wowintro is first and foremost a pre-interview video screening tool to which employers are able to ask candidates' interview questions online and receive video-format replies digitally! The immediate advantages to the video screening approach are that it significantly reduces the time wasted by employers as in the past spent on evaluating poor quality candidates due to misleading information from plain resumes alone. This is made possible given that candidates are now able to communicate their soft-skills and body language beyond the limitations of hard copy resumes as showcased now on video. Furthermore, this substitutes the tiresome and long-winded phone interviews with short 30-second to 3-minute video responses that can be evaluated anytime and anywhere.
APPLICANT TRACKING SYSTEM (ATS)

Complemented with an Applicant Tracking System (ATS) - a centralized location for employers to conveniently manage their database of candidates in a synchronized manner. The beauty of wowintro is its ability to store and manage the bulk of resumes and candidates' information digitally. Furthermore, an added advantage for employers is that they can get hold of their candidates' information at any time or location all within the reach of their fingertips on demand. How it works is that all the candidates' information is pulled from the front and back-ends of company websites and job boards respectively.
wowintro therefore helps employers to save precious time while alleviating unnecessary stress as they are now well equipped to select better quality candidates in a digitalized and efficient manner.