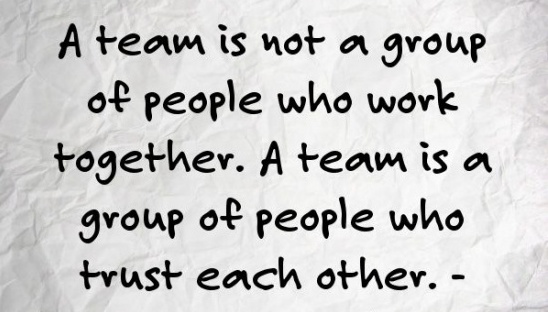 T R U S T

What is trust?
I say,
Trust is more than a noun or a feeling or a thought.
Its an Asset.

Trust plays a big role, be it in a relationship, friendship, or even with your workmates. Trust is that extra push that brings great teams to greater heights. Building Trust with someone is very crucial, especially with your team.

A team without trust, isn't really a team. It is basically just group of individuals that does things their own way that could lead to battles over rights and responsibilities. You can be the most talented person out there or the most educated one but you can never reach your full potential if trust isn't present. At some point in your life, you need to develop a sense of "trust".

It is understandable that trust isn't something you develop the minute you wake up in the morning, as a matter of fact Trust takes seconds to kill but years to build but it should not stop you from believing in it.

Frank Crane, an American minister and author once said,
"You may be deceived if you trust too much, but you will live in torment if you dont trust enough".

Without trust, comes less innovation, collaboration or even creative thinking. However, when trust is in place, many beautiful things will come your way; your team becomes stronger which can lead to you being able to achieve truly meaningful goals!

So, here comes the million dollar question;
How can you create a culture of trust within your team?

Discourage Cliques
Yes, its true. Everywhere you go, you will stumble upon cliques. Cliques are formed within a team who shares common interest which somehow can make others feel isolated and undermine trust between one another

Don't place blame
Mistakes and disappointments are bound to happen in life. It is always easy to blame others but your own. When fingers are pointed, it can lead to a very unpleasant atmosphere. Again, this undermines trust.

At times like this, its best if you were to step in and encourage everyone in your team to think about mistakes in a constructive way. Is there any solution? How do we move forward? All these question are great to ponder upon.


Piece of advice,
Life is too short. Stop with the "what if's" & start trusting a little.