We are so excited to announce our official collaboration with YB Khairy Jamaluddin and the Ministry of Youth and Sports for the Perdana Fellows programme 2016 intake! An initiative organized by the Malaysian government, Perdana Fellows is a program spearheaded by the Ministry of Youth and Sports to present Malaysian youths the once-in-a-lifetime opportunity to be personally engaged at the highest levels of the federal government and contribute to nation-building. The chosen candidates will be exposed to policy work and assist in national agendas under the direct supervisions of the Cabinet Ministers, the Deputy Minister and Prime Minister. The programme is divided into two sectors, Perdana Fellows Graduate and Perdana Fellows Undergraduate.
"wowintro is a new innovative way of opening doors for young people. I believe wowintro can take Malaysians further by providing greater opportunities," said YB Khairy Jamaluddin, the Minister of Youth and Sports in a video released on wowintro's platform last year. The minister announced the adoption of wowintro as the impressions platform to get to know applicants better via 30-second videos where they can showcase their soft-skills as well, rather than just relying on their hard-skills written on paper.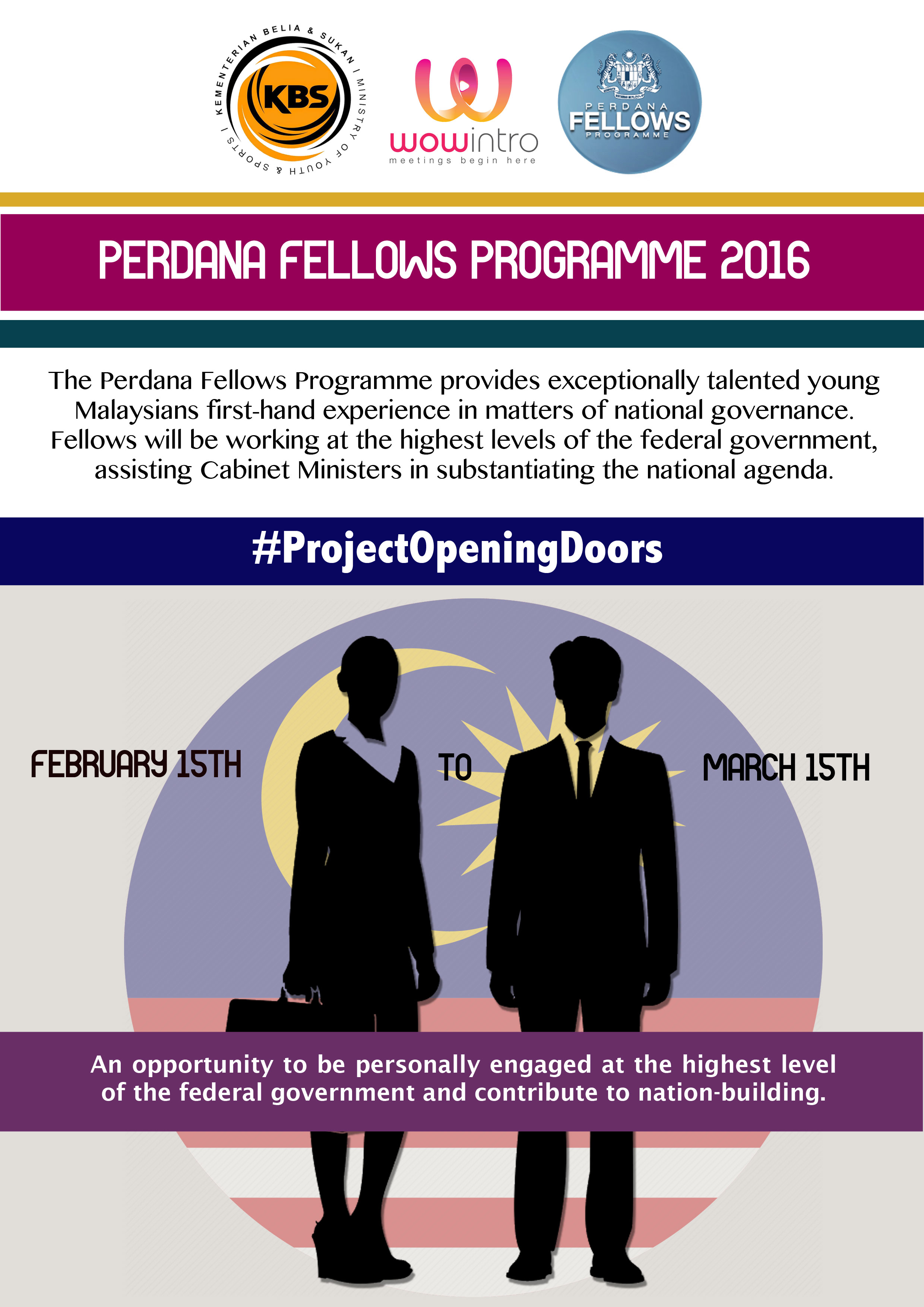 In efforts to bond with youths through the program, the minister is encouraging every hopeful applicant of Perdana Fellows to submit a 30-second wowintro video as part of their application to increase their chances of being selected. The ministry recognizes that youths are heavily influenced by technology and with majority of users on wowintro being fresh graduates and under-graduates seeking opportunities, wowintro is the perfect platform for the ministry to utilize for Perdana Fellows.
This collaboration is the first of many projects wowintro have planned throughout the year. The startup is set to launch Project Opening Doors, a nationwide campaign conducted via on-ground roadshows targeted at mass millenials in 30 public and private educational institutions all over the country. Founder of wowintro, Alex Phang is thrilled to be collaborating with the ministry for the Perdana Fellows program this year, quoting "We are honored to have YB Khairy Jamaluddin's support for our platform and we're looking forward to discovering quality candidates for the Perdana Fellows program."

For those who are interested in joining the Perdana Fellows programme, click here for more information! Applications are NOW OPEN and applications officially end on the 15th March! Good luck from us here at wowintro!